Organizations with strong leadership benefit from a stellar reputation, high customer satisfaction and excellent financial performance. They understand the competencies that are required to excel at what they do. They invest in their people and in return they experience things like:
Happy employees who are committed to the organization
Respectful conversations that open up possibility
People holding one another accountable
When we partner with you to customize your leadership development program or teambuilding experience, we follow a 5-step process.
Our process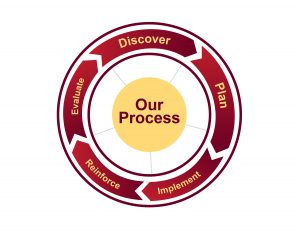 Discover. Expect a lot of questions as we learn about your company's environment, vision, values and goals. You will help us understand the priorities and challenges that need to be addressed.  In our practice, discovery and planning are the most critical steps in the process.
Plan. We then design and develop a custom program that meets your needs, budget and schedule. Together, we develop a plan to measure success.
Implement. Whether it is a half day workshop or a year long leadership program, our team facilitates and delivers your custom program. We may utilize assessments and tools such as DiSC, the Thoms-Kilman Instrument, 360 feedback and team assessments.
Reinforce. We partner with you to develop a plan to reinforce key areas of your program. Examples may include cross-training, mentoring, process or procedural changes, coaching sessions or reward programs.
Evaluate. Participants evaluate courses or programs and report what they learned and how they applied it. Over time, we can help you evaluate the impact on the organization.  Together we determine next steps to continue supporting you and your company's objectives.
For a description of sample modules, download our course catalog.
Are we a good fit?
Give us a call or drop us a note and together we'll explore whether we are a good fit for what your organization needs right now.
Our Values:  Efficiency ~ Authenticity ~ Possibility
Subscribe to educational business articles (bi-monthly)