Home Study Courses
Can you spare 30 minutes to improve a skill that will pay you back a hundred times over?  Each of our Home Study Courses can be completed in as little as a half hour. And of course you can call us with any questions that come up.
Prioritizing Your Priorities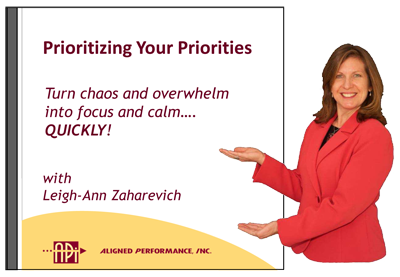 Feeling overwhelmed? Stressed? Not sure what to work on next? Turn chaos into calm with this powerful, short prioritizing and planning class.  It's packed with great ideas that will help you immediately.
"This course helps you get focused on the right thing…FAST!"
Have you ever had so much going on that you didn't know what to work on next?  Me too!  That's why I use this simple system to prioritize all of the high priorities I have going on at any given time.
Buy Prioritzing Your Priorities Now!

Transforming Busy-ness into Profitable Results
In "Transforming Busy-ness into Profitable Results", I guide you step by step through the process. In less than an hour, you will be many steps ahead of where you were and more importantly, LEAPS ahead of your competition.
"This course helps you avoid empty busy-ness … Permanently"
While others are struggling to keep up with things, and running in circles chasing their tail, you will be focused, calm and deliberate about your actions. Isn't that worth 30 minutes of your time?  You Bet! You will save that much time every day, if not more, after completing this course!
Buy Transforming Busy-ness Now!

Liberation Through Delegation
Expanding Your Productivity by Having Others do the Work FOR YOU!
Not only does effective delegation get more done, it helps to develop the person getting work delegated to them. It's a triple win when you learn when and how to delegate responsibly.
Buy Liberation Through Delegation Now!